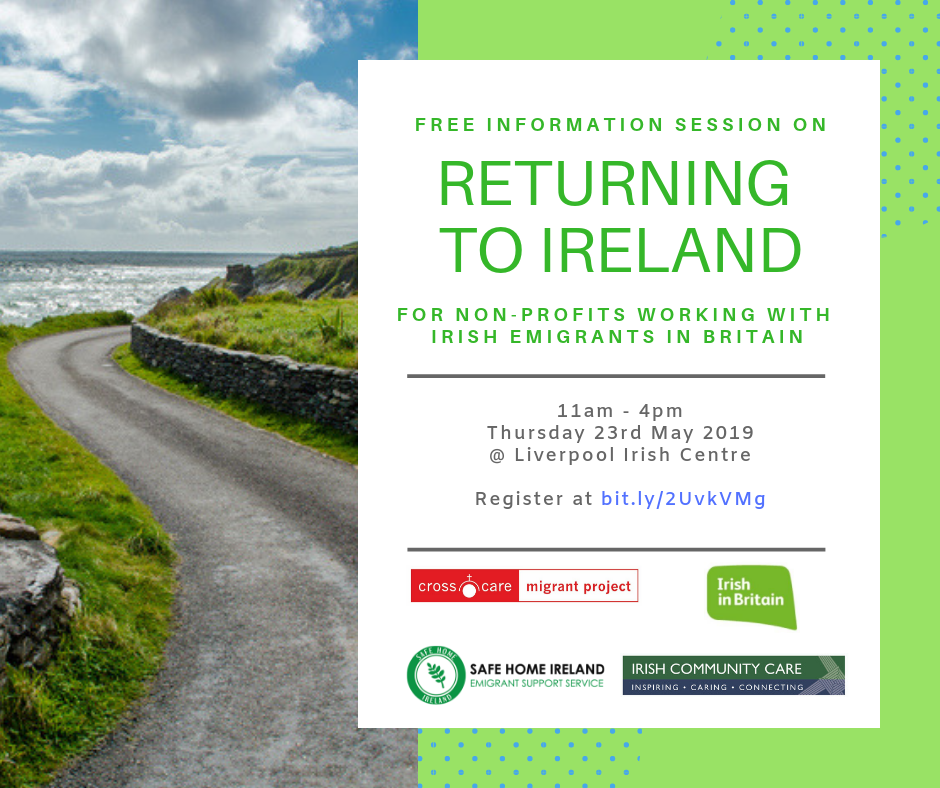 Thanks to the success of our recent London based 'Returning to Ireland' information session, we're very happy to announce a second event to take place in Liverpool this May!
Provided in partnership with Safe Home Ireland, the Irish in Britain, and Irish Community Care, we will be running this FREE 'Returning to Ireland' information session on Thursday 23rd May at the Liverpool Irish Centre.
It is available to front line workers of UK based non-profits providing welfare support to Irish emigrants, recipients of Emigrant Support Programme funding, and Irish in Britain members.
Facilitated by Sarah Owen of Crosscare Migrant Project and Karen McHugh of Safe Home Ireland, the full day session run from 11am until 4pm. Topics will include:
Access to Social Welfare Payments
Eligibility for Social Housing
Healthcare on return
Access to Nursing Home care
Making a planned return
Homelessness and returning in crisis
Making referrals to Crosscare Migrant Project and Safe Home Ireland
As well as sharing information on returning to Ireland from the UK, we hope it will offer a great opportunity to network with fellow groups working in the sector.
Registration is essential, so book your ticket here!