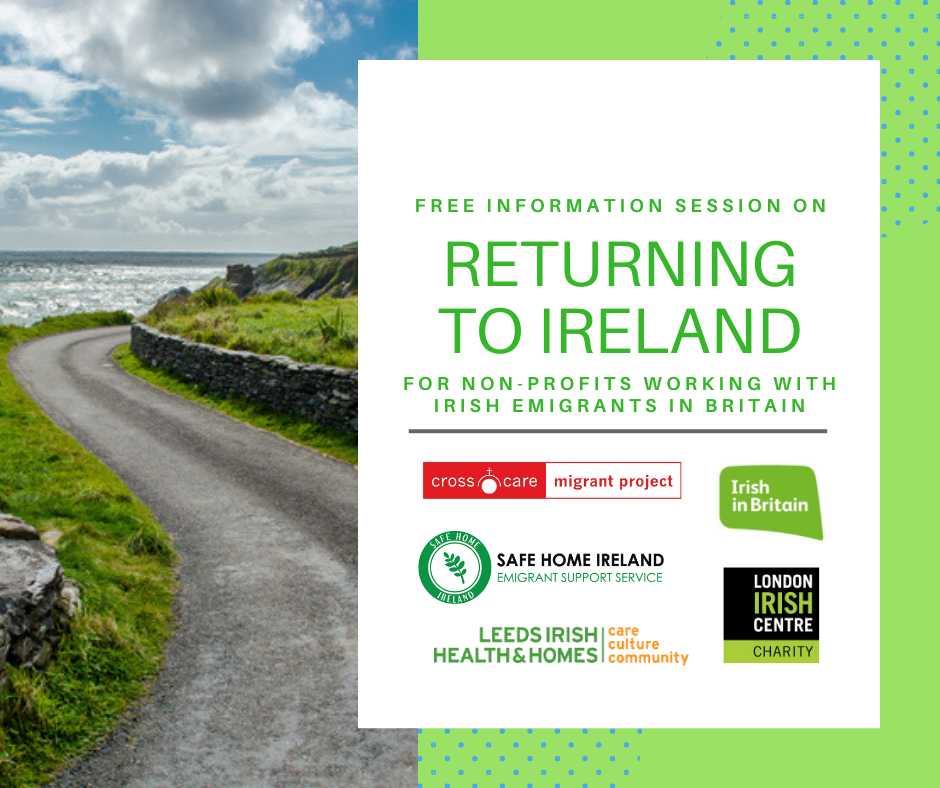 With the numbers of Irish people returning from abroad increasing, we believe it is important to work together to ensure Irish emigrants are offered a continuum of support as they make their way back to Ireland from around the world, including from the United Kingdom. That's why we've once again teamed up with Safe Home Ireland, Irish in Britain, London Irish Centre and Leeds Irish Health and Homes to offer two FREE 'Returning to Ireland' focused information sessions in London and Leeds this March/April!
The aim of these sessions is to provide practical information to help front line workers to support Irish emigrants considering a return to Ireland from the UK. It also offers a great opportunity to network with fellow groups working in the sector.
Facilitated by Danielle Mc Laughlin of Crosscare Migrant Project and Karen McHugh of Safe Home Ireland, it is available to non-profit organisations in Britain providing welfare support to Irish emigrants, as well as recipients of Emigrant Support Programme funding and member organisations of the Irish in Britain.
Topics will include:
Access to Social Welfare Payments
Eligibility for Social Housing
Healthcare on return
Access to Nursing Home care
Making a planned return
Homelessness and returning in crisis
Making referrals to Crosscare Migrant Project and Safe Home Ireland
We will be running two sessions, one in London and a second in Leeds. Places are limited so register early to avoid disappointment. Click on the links below and fill in your details to register your attendance: