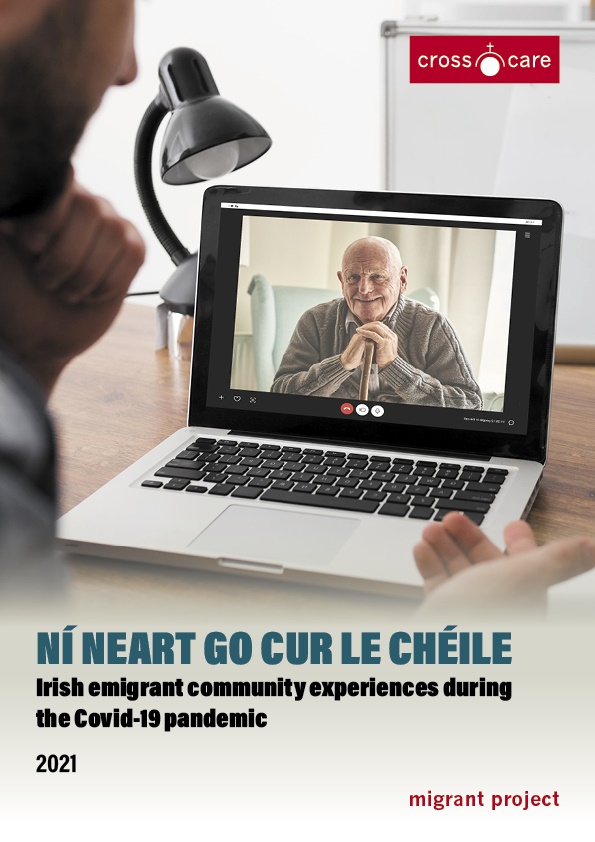 Crosscare Migrant Project is pleased to launch a new research report
'Ní neart go cur le chéile – Irish emigrant community experiences during the Covid-19 pandemic'.
The new research examines the impact of the pandemic on the Irish emigrant community in Australia, Canada, the United Kingdom and United States through the experience and perspectives of the Irish emigrant support organisations.
In partnership with Irish in Britain, the research report was launched in a live open event on Tuesday 21st September with special guests Ambassador Adrian O'Neill (Irish Embassy, London), and Brian Dalton (CEO, Irish in Britain). The report will also be launched online with the United States and Canada in partnership with the Coalition of Irish Immigrant Centers on 23rd September at 12pm EST, and a third launch will take place online in Australia in partnership with the Irish embassy in Canberra on 27th September.
The report gains insight, from the network of Irish emigrant support organisations abroad, into the impact that Irish emigrants experienced during the pandemic. It analyses the main crisis issues emigrants experienced during the pandemic: their needs, how they were supported, and the future needs and challenges they may face. The research presents findings from both a survey and interviews conducted with emigrant support organisations funded via the Government of Ireland Emigrant Support Programme working directly with Irish emigrants, across Australia, Canada, the United Kingdom and the United States.
Financial insecurity, informational needs, isolation, wellbeing and mental health were the main challenges for Irish emigrants across the community and among older emigrants, vulnerable emigrants and Irish Travellers. Immigration insecurity was also a major challenge particularly among temporary workers in Australia, Canada and the United States. Less dominant but concerning challenges included health vulnerability, homelessness and domestic violence.
Diversity among the Irish emigrant community, their connection with Irish organisations, collaborative initiatives, regional responses to the pandemic and availability of resources were determinants of the challenges identified by the organisations. Many emigrants experienced multiple challenges simultaneously during the pandemic and were therefore in need of a variety of supports, such as immigration advice, financial support and counselling.
The report assesses experiences across the globe on how the pandemic impacted emigrants, how the Irish community responded to support emigrants, and what we can learn from these experiences to help prepare for future challenges facing Irish emigrants.
Ni neart go cur le cheile – Crosscare Migrant Project 09.2021