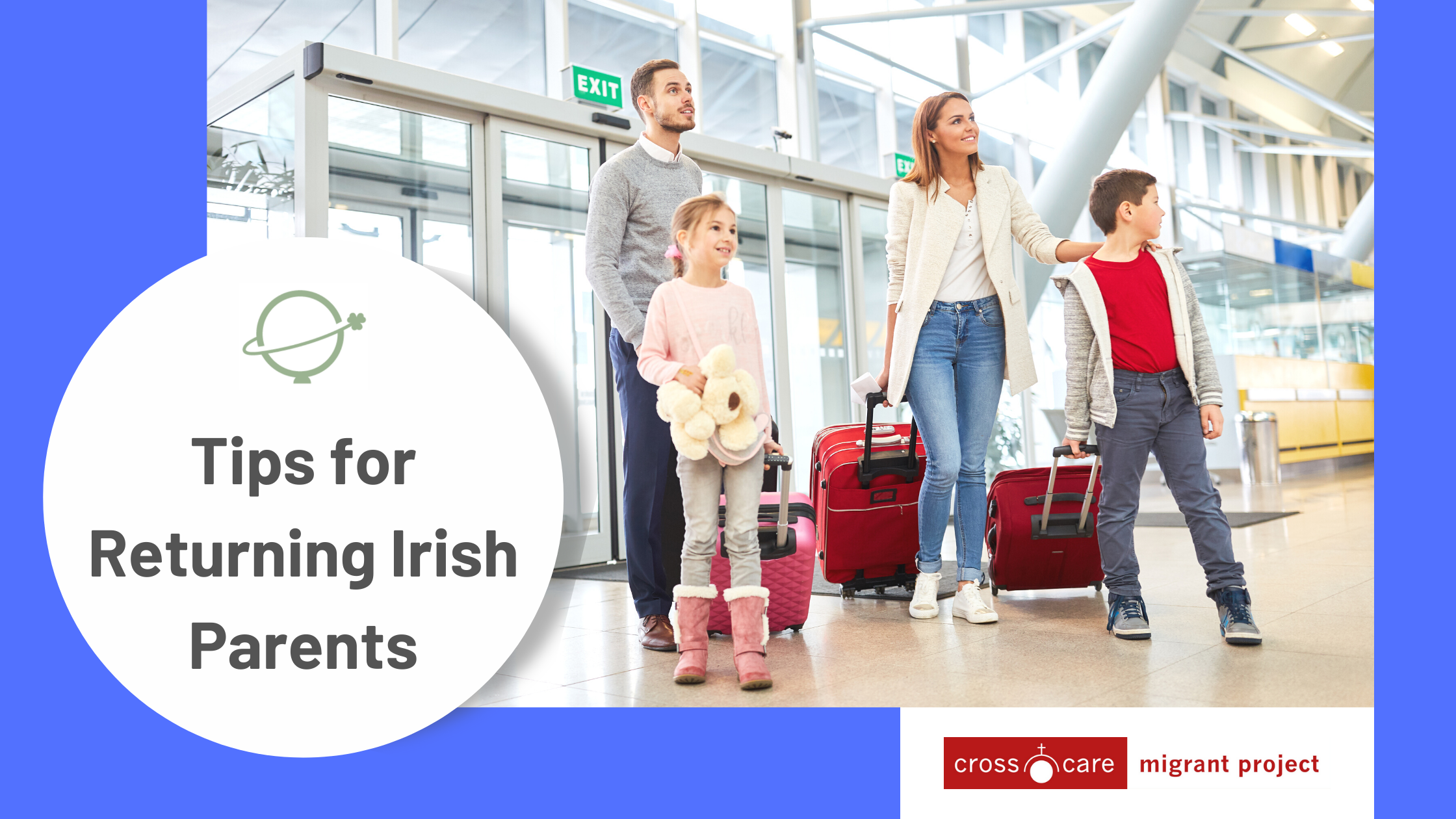 If you're an Irish emigrant living abroad, and you're thinking of returning home to Ireland it's helpful to plan as much as possible before your return. This is especially true if you are returning with children. These tips will help you make the transition.
Start Your Research as Early as Possible
Planning in advance is the key to a smooth return to Ireland. Research insurances, the jobs market, the housing market, schools/ childcare options, economic variables, transferring money, shipping options etc so that there are no hidden surprises. It's so important to have realistic expectations.
Involve children with the plans
Include your children in the conversion and also with the planning stages of your move to Ireland. It makes it more exciting and can reduce some of the anxiety older kids may experience.
Open Communication and Discussion
Children may experience different emotions such as anxiety, loss, fear, sadness or confusion and they need a space to be able to speak about their concerns. Really listen to their concerns, they are valid and need to be addressed.
Bring Comforts
Carry familiar and comforting items, such as food, blankets, toys, water bottles etc so that there is a sense of 'home' on arrival. Try to keep a familiar routine as much as possible.
Budget Carefully
Start a budget to work out the costs involved as soon as possible. It can be extremely costly and it's best to be well-prepared for what's ahead.
Organise Schools and Childcare Options in Advance
Do your research early by making contact with schools and crèches in your preferred areas to see if they have places available or if they have waiting lists. Put your child's name down for crèches as early as possible and start the application process for schools before you arrive. Make sure you tell school authorities that you are leaving the country before returning.
PPS Number
Apply for a PPS number for your children if they were born outside of Ireland.
Child Benefit
Apply for Child Benefit for children aged 16 and under (or up to 18 in certain circumstances) and GP visit card for children under 6.
Early Childhood Scheme
Make sure to take advantage of the Early Childhood Care and Education (ECCE) Scheme which provides early childhood care and education for children of preschool age.
Getting Around
When you have just come off a long flight with kids, your brain will be struggling to function. This is a given. Having all your transport at least from the airport to your accommodation organised beforehand will save you a lot of stress. Organise the hotel shuttle, book a driver, taxi or have a car hired.
Organise Baby Items in Advance
You can rent baby items such as car seats, prams and cots or organise with family/ friends to have these items ready for when you land. If you are travelling with a baby organise for someone to set up the cot with sheets and other comforts so you can settle your baby as soon as possible.
Build Your Network and Join Online Communities
Join groups to network and seek advice with other Irish abroad who may be going through a similar experience as you. Research playgroups and mothers' groups in the area you are moving to so you can meet new people as soon as possible. Meetings new mums in my local town was a lifesaver for me as a first time mother.
Make New Connections When You Arrive
Join clubs/ groups or organisations upon your return to Ireland where you can meet new friends and make new connections in your local area. It can really help with feeling settled. It takes time so try to remember to stay patient.
Get Support if Needed
Reach out to family and friends for support with your move. You can also get in touch with Irish emigrant support organisations funded by the Irish Government's Emigrant Support Programme – such as Crosscare Migrant Project.
Self-Compassion is Needed
Be extra kind and compassionate to yourself – moving is a BIG deal, and you may feel completely out of your depth at times and elated at others. It's a rollercoaster of emotions so don't forget to take care of yourself throughout the process.
Practice gratitude
Starting over again is a slow process. Practice gratitude for the things that are going well. Having a sense of gratitude helps ground you and gives you a positive mindset that moves you forward. Keep it up even when you don't feel like it, that's often when we need it the most.
Reverse Culture Shock
What takes many Irish emigrants returning to Ireland by surprise is reverse culture shock that many are not prepared for. So much time and effort goes into packing, selling and planning the logistics of the move that many of us don't put half as much effort into planning how to adjust at home again. It's easy to forget how exhausting getting used to something new is and how change can affect our mindset if we are not working on it. Hopefully with some careful planning ahead of time, you can settle your family into your new life in Ireland in no time.
Special thanks to Sarah Whelan for this feature on returning to Ireland. Sarah is the founder of Irish Women Abroad, offering a platform for Irish women living abroad or returning to Ireland to connect online. Sarah also recently launched 1:1 Relocation Consultations. Join the Facebook group or follow Irish Women Abroad on Facebook and Instagram. For more useful information on returning with a baby or toddler, download this Flying with Babies and Toddlers to Ireland Checklist or read Sarah's Tips for Flying with a Bottle-Fed Baby to Ireland. You can also read all about returning home with children and general information on planning your return to Ireland.