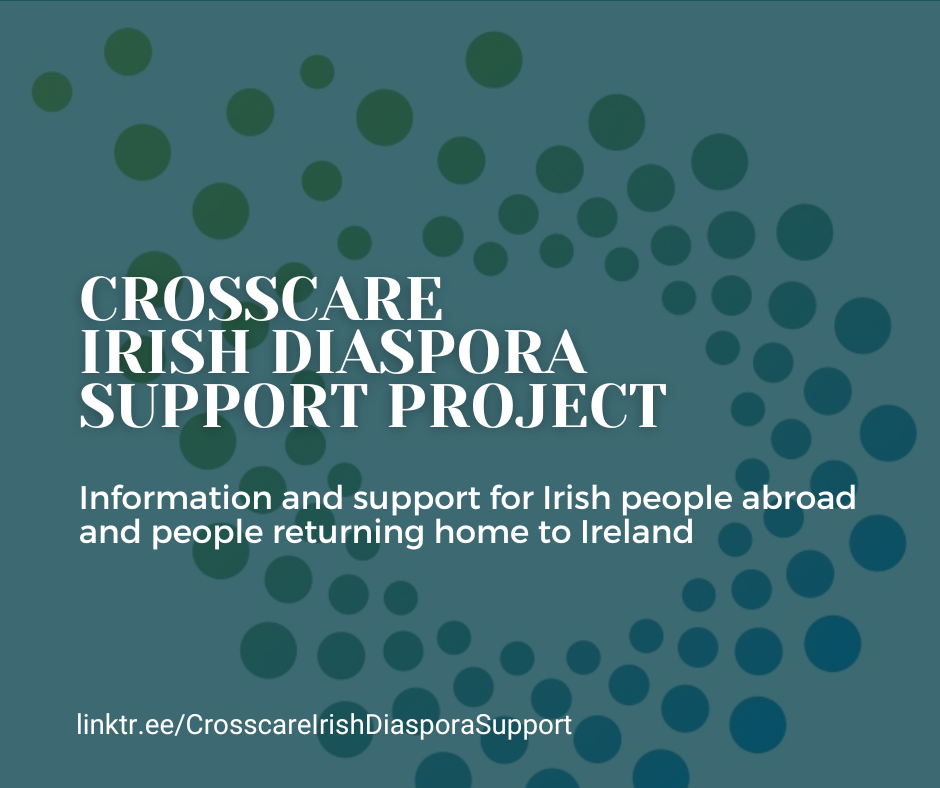 Happy New Year from the Crosscare Irish Diaspora Support Project!
As we announced this past November, Crosscare Irish Diaspora Support Project is a new service born out of the critical Irish diaspora advocacy that the Crosscare Migrant Project has spearheaded for over fifteen years (don't worry–important immigration-related supports will continue under Crosscare Migrant Project. Further information can be found here).
Crosscare Irish Diaspora Support Project strives to empower Irish citizens returning from abroad and those planning to emigrate. We do this by providing information and advocacy support on:
Immigration pre-clearance and permission for non-Irish partners and spouses of Irish citizens
Social welfare and the Habitual Residence Condition
HSE issued medical and GP visit cards
Access to emergency supports for people returning in crisis
Irish emigrant support organisations abroad
Moving abroad, especially on working holidays
Other key areas of interest to intending and returning Irish emigrants
This initiative is made possible thanks to funding from the Government of Ireland's Emigrant Support Programme. Construction on our new website is underway. In the meantime, here are some important updates to be aware of:
SERVICES & RESOURCES
Until we launch our new dedicated website with targeted information for Irish people moving abroad and those returning home to Ireland, up-to-date information on our services can still be found here on migrantproject.ie. Please check out our Leaving Ireland and Returning to Ireland for helpful resources on emigrating and returning, respectively, and know before you go!
MEET THE TEAM
Sarah Owen, Project Leader
Congratulations to Sarah, our new Project Leader! Sarah joined the team in 2012, and has since made invaluable contributions to Ireland's diaspora communities across several roles. She most recently served as our Policy & Outreach Officer, responsible for promoting the needs of Irish diaspora at policy level and building connections to support the welfare of Irish emigrants. Sarah is taking over for Richard King, who will continue to coordinate Crosscare's migrant and refugee services.
Niall Foster, Information & Advocacy Officer
Niall is our dedicated information and advocacy officer assisting Irish citizens emigrating abroad or returning to Ireland. Niall joined the diaspora team in in 2021, having previously worked in Crosscare's housing and information service. Niall leads on our casework portfolio, focusing on matters of social welfare access, housing and homeless services, immigration, health, and education. For queries or support on leaving or returning to Ireland, contact Niall at irishdiasporasupport@crosscare.ie.
Lucia Guzikowski, Communications Officer
A very warm welcome to our team's newest member, Lucia! Hailing from Boston, Lucia is a graduate of Boston College and Trinity College Dublin who will work on all things communication for the project.
Policy & Outreach Officer coming soon!
CONTACT US
For appointments or to speak to a member of the team, please email irishdiasporasupport@crosscare.ie or call +353 (0) 1 873 2844.
In addition to building our new website, we are busy changing over our social media handles to reflect our specialised mission. We will continue to update you as these changes go live, and in the meantime, follow us on Twitter @irishdiasporaSP, Facebook, LinkedIn, YouTube and Instagram.
Follow us on Eventbrite to stay up-to-date on our exciting calendar of webinars, trainings, and other events. Interested in going to Toronto on the International Experience Canada (IEC) visa or know someone who is? Register for our next free webinar on Monday, 6th February at 7pm GMT, hosted in partnership with I/CAN.
You can watch back previous events and other informative content on our YouTube channel (be sure to like and subscribe)!
THANK YOU!
Thanks a million for your continued support. Be sure to watch this space for news on Crosscare Irish Diaspora Support Project, and please do not hesitate to get in touch!